Welcome
Dear Parents / Guardians / Visitor
Thank-you for taking the time to visit our website! Here you can find out all about our school, see what's happening and look at the children's work. You will also find some useful and important information.
As you view the pages you will get a feel of what we are aiming to achieve at St Brigid's Primary School. Our Governors and staff take the responsibility for your child's education very seriously and make every effort to ensure that each individual pupil receives the highest standard of teaching possible.
At St Brigid's we promote a positive attitude in children. We have high expectations in terms of academic standards and behaviour. Each child is assessed on his/her own merits and individual effort is valued and rewarded.
St. Brigid's Primary School is a lively, happy place where the children's needs come first. We are proud of what our children achieve and hope that their years spent at St. Brigid's Primary School provide a firm foundation on which to build their future hopes and dreams.
At St Brigid's we aim to create an environment where individual needs are appreciated, where responsibility is shared and in which spiritual, academic, social, aesthetic and physical qualities can be developed to the full.
As a Catholic Primary school, we are fundamentally committed to developing and fostering Christian values for life. To achieve this, it is essential we work together in partnership with all our children, parents and the community. We aspire to create a co-operative and harmonious relationship between staff, children and parents. Your support is important to us as we encourage and provide your child with the very best standard of education during their time spent at St. Brigid's Primary School.
No website can convey the real atmosphere of St. Brigid's Primary School. If, after browsing, you would like to see how our school operates on a daily basis I warmly invite you to visit our school. Please do not hesitate to telephone school to arrange an appointment.
I hope you enjoy your visit to our website.
With sincere good wishes!
Rosena Tracey
St Brigids Playschool Mountfield
Prospective Parents
If you have a child due to start school in Playgroup or Primary 1 in September 2021, online applications will be available from 7th January 2021.
Regrettably, given the current restrictions placed on schools due to COVID-19, the Department of Education is advising against schools holding physical Open Days in the coming months.
Instead our school will share information with prospective parents via our school website. Our Prospectus will be available from the start of January 2021.
DATES FOR YOUR DIARY:
Thursday 7th January 2021 at 12 noon

The Education Authority Application Portal opens.

See www.eani.org.uk for further information.

Friday 29th January 2021 @ 12 noon

Deadline for parents to submit an application online, with documents in support of their application.
Wednesday 28th April 2021

Parents receive notification of the outcome of their application via the Education Authority Online Portal.
During the admissions procedure, applications are not considered on a 'First Come First Served Basis'. Just make sure you make your application before the deadline.
Should you have any query before January 2021, please contact the Principal, Mrs Rosena Tracey, rtracey803@c2kni.net.
Latest Gallery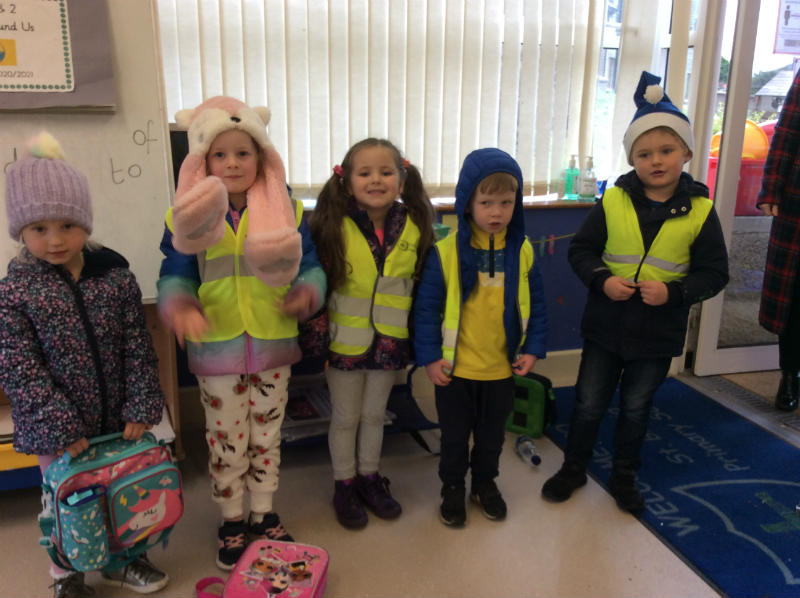 St Brigid's Primary School , Mountfield 4 Lenagh Rd, Omagh BT79 7PT | Phone:028 8077 1327